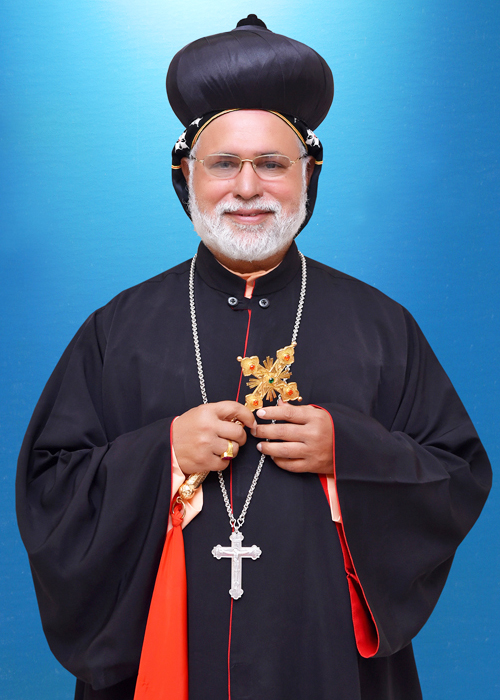 His Excellency Most Rev. Yoohanon Mar Chrysostom
Bishop Emeritus of Pathanamthitta
His Excellency Most Rev. Yoohanon Mar Chrysostom was born on 19 May 1944 as the third son of Abraham and Achiyamma of the Kalloor family at Kadammanitta, in Pathanamthitta district. As a little boy he showed great interest in prayer and holy services in the church. He completed his Secondary Education at Government High School, Kadammanitta. His strong desire to become a priest made him to join in St. Aloysius minor seminary, Trivandrum. After the completion of his minor seminary formation, he was sent to Trichy for doing philosophy and theology. On 5 May 1973, he was ordained a priest by his Grace Benedict Mar Gregorios, Archbishop of Trivandrum. He started his pastoral ministry as the assistant vicar in parishes around Balaramapuram. Later he has become the vicar of Venniyoor, Mulloor, Chowara and Vizhinjam. Then he was appointed as the Director of the St. John's Hospital for the victims of Leprosy at Pirappencode.

Then he was sent to do the mission work at North America. When Archbishop Benedict Mar Gregorios officially inaugurated the Malankara Catholic Mission in North America he was appointed as the co-ordinator. Considering his pastoral zealous and exemplary mission activities in 1997 he was raised to the status of a Cor-episcopo.

The unexpected demise of His Excellency Lawrence Mar Ephrem, the first bishop of the New Eparchy of Marthandom in its initial stage was in a state of uncertainity. During this time His Holiness Pope John Paul II appointed Rt. Rev. John Kallor Cor-episcopo as the second bishop of the Eparchy of Marthandom on 16th April 1998. He was ordained a bishop with the name Yoohanon Mar Chrysostom by Archbishop Cyril Mar Baselios at Mar Ivanios Stadium, Trivandrum, on 29 June 1998. He was installed as the bishop of Marthandom on 1st July 1998 at Marthandom Cathedral. He celebrates his feasts day on November 13. On 8 June 2019 he retired from the official duties and responsibilities of the Eparchy.
E-mail: bpdiopta@gmail.com, diocesepta@gmail.com
Website: www.pathanamthittadiocese.com
Tel: 2223100, 4682223200
Feast: 13 November - St. Chrysostom, Feast of the Heavenly Patron
Parish : Kadammanitta
Address : Bishop's Residence, Cheekanal, Omalloor PO, Pathanamthitta