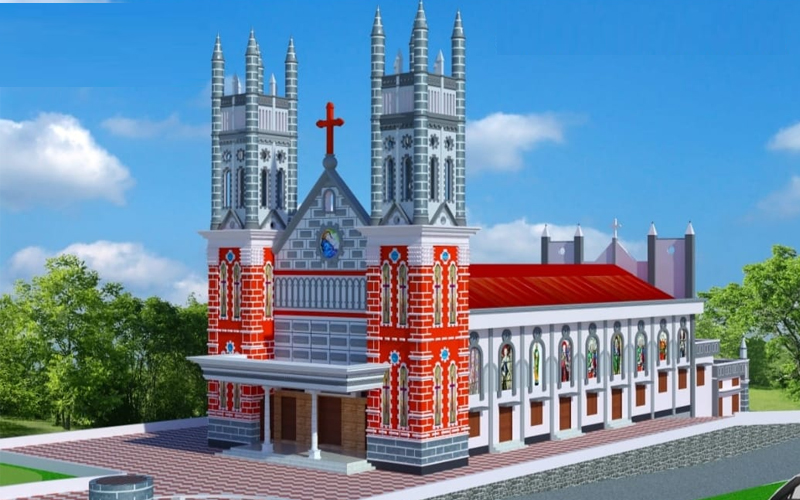 History of Eparchy of Parassala
The Malankara Syrian Catholic Eparchy of Parassala is the fruit of the missionary commitment of the Malankara Catholic Church initiated by the Servant of God Archbishop Mar Ivanios and ardently followed by Archbishop Benedict Mar Gregorios, Moran Mor Cyril Baselios Catholicos, Bishop Lawrence Mar Ephraem, Msgr. Joseph Kuzhinjalil, Moran Mor Baselios Cardinal Cleemis Catholicos, Rt. Rev. Philip Ozhunnalloor Corepiscopo and by several Eparchial priests, the Franciscan Missionary Brothers, Bethany Fathers and Sisters, Daughters of Mary Sisters and hundreds of the lay missionaries. All these missionaries worked zealously among the non-Catholics and non-Christians and pioneered the mission of reunion and evangelization in this region. Many parishes and mission centres were started in different places. The Archdiocese of Trivandrum established the ecclesiastical district of Neyyattinkara in the region which was again divided into Parassala and Kattakada.
The Eparchy of Parassala is the eleventh Eparchy of the Syro-Malankara Catholic Church. As per the decision of the Holy Episcopal Synod of the Syro Malankara Catholic Church and with the approval of the Holy See, His Beatitude Moran Mor Baselios Cardinal Cleemis, Major Archbishop Catholicos bifurcated the Major Archieparchy of Trivandrum and erected the Eparchy of Parassala on 5 August 2017. On the same day, His Excellency Most Rev. Dr. Thomas Mar Eusebius, the then Bishop of the St. Mary, Queen of Peace Syro- Malankara Catholic Eparchy in the USA and Canada was appointed as the first Bishop of Parassala. The territory of the Eparchy of Parassala consists of the three ecclesiastical districts of Neyyattinkara, Parassala and Kattakada. The inauguration of the Eparchy of Parassala and the Enthronement of His Excellency Mar Eusebius was held on 23 September, 2017 at St. Joseph's Malankara Catholic Church, Balaramapuram. The ceremony was officiated by His Beatitude Moran Mor Baselios Cardinal Cleemis. Mother Prema, the Mother General of the Congregation of Missionaries of Charity of St. Teresa of Kolkata participated in the function and felicitated.
There are around 33,000 Malankara Catholic faithful in 103 parishes and three Mission stations in the diocese. After the establishment of the diocese, two more ecclesiastical districts were formed, namely, Chembur and Balaramapuram making the total number districts five. The Eparchy was formed with 27 incardinated Priests. In addition, there are 19 priests serving the diocese from other Malankara Catholic dioceses and 3 priests from the Order of the Imitation of Christ. The Daughters of Mary Congregation's Nirmala Province has its headquarters within the diocese. Besides the Daughters of Mary Sisters, there are the Bethany Sisters, Snehagiri Sisters, SH Sisters, Sisters of Charity, St. Jeanne Antide Thourt and the Association of Missionaries of Unity rendering various services in the diocese.
Catholic Bishop's House,
Kudayal, Ayira P.O., Parassala, Kerala, India 695502
Tel: 0471-2205834; E-mail: diocese.parassala@gmail.com
Heavenly Patroness: St. Teresa of Kolkata (Mother Teresa)