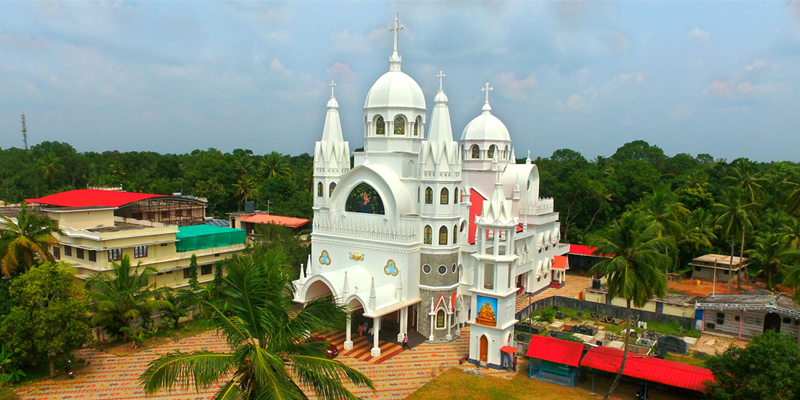 History of Eparchy of Mavelikara
Since the Malankara Catholic Church made great strides in its ecclesial and social development, Saint John Paul II, elevated the Malankara Catholic Church to the juridical status of the Major Archiepiscopal Church on 10 February 2005, with all its rights and obligations as per the Canon Law of the Eastern Churches (Vide, Apostolic Bull Ab ipso sancto Thoma). This event became the real fulfillment of the long cherished dream – to elevate this Church in to 'Sui juris'status - of the most venerated founding father Mar Ivanios, the servant of God. And that too, a turning point in the history of Malankara Catholic Church. Thereafter, considering the pastoral needs and the special circumstances of the people of God in the Major Archieparchy, the 4th ordinary Holy Episcopal Synod of the Syro Malankara Catholic Church held from 31 October to 3 November 2006, decided to erect Mavelikara Eparchy. It comprises more or less the North-Western region of the erstwhile Trivandrum Major Archieparchy. Taking into account the significance of Mavelikara in the history of St. Thomas Christians, the newly erected Episcopal See was named after it. The famous Mavelikara Synod and the Mavelikara 'Padiyola' (document) are the evidence of its historical importance. Moreover, Mavelikara is the native place of Mar Ivanios Metropolitan, the servant of God, the most venerated father of Malankara Church and founder of the Re-union Movement.
As per the decision of the Holy Episcopal Synod of the Syro-Malankara Catholic Church, His Beatitude Moran Mor Cyril Baselios Catholicos, by the decree Prot.No. 1/2007, erected the Eparchy of Mavelikara, bifurcating the Major Archieparchy of Trivandrum, on 1 January 2007. His Excellency Most Rev. Dr. Joshua Mar Ignathios, the Auxiliary Bishop of Trivandrum, was transferred and was appointed the first Bishop of the Eparchy of Mavelikara. The official inauguration of the Eparchy of Mavelikara and the Installation of His Excellency Most Rev. Joshua Mar Ignathios as its Bishop were held at St. Mary's Church, Punnamoodu, Mavelikara on 16 February 2007. The Holy Qurbono was celebrated by the newly elected Major Archbishop-Catholicos and the Installation was officiated by the Administrator of the Church His Excellency Most Rev. Dr. Geevarghese Mar Divannasios, Administration of the Syro Malankara Catholic Church.
After the formation of this new Eparchy the whole geographical area was re-arranged into five ecclesiastical districts; namely, Chengannur, Mavelikara, Kadampanad, Puthoor and Kollam and later in 2014 created a new ecclesiastical districted named Kattanam. There are 27,986 Catholic faithful distributed over the 96 parishes in the new Eparchy. There are 83 diocesan priests in the Eparchy. The patroness of the Eparchy is Mary, Mother of God. By the providence of God and under the dynamic leadership of His Excellency Dr. Joshua Mar Ignathios the Eparchy is growing fast in all its dimensions.